A visitors guide for Market Days, Events and Tourist Attractions for Bastrop, Texas.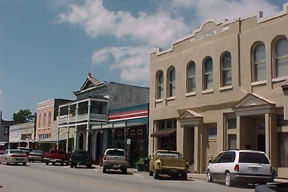 Historic Downtown Bastrop
Bastrop is a beautiful town near Austin, the state capital of Texas, and the home of famous Lost Pines. The Bastrop Historical section of town is one of the most popular visited areas. Since Bastrop is only about a 30 minute drive from Austin and the Austin Bergstrom International Airport, there are many events that are popular with the local folks and tourists as well.


Bastrop County Court House

Originally inhabited by the Tonkawa indians, Bastrop first became settled by europeans after Stephen F. Austin reached an agreement with the Mexican government in 1827. The settlement was originally named Mina and it was renamed after Felipe Enrique Neri, the Baron de Bastrop, who was a Dutch businessman, in 1837.


Bastrop City Park by Colorado River
Events and Other Great Happenings in Bastrop:

The SUP CUP
The SUP CUP is a 2-day festival held in August and SUP events highlight a festive weekend filled with great food, live music, and entertainment for the whole family. Participants compete in all three events (speed, endurance, and skill) to claim THE SUP CUP title.

Pine Street Market Days in Bastrop
Bastrop's market days are held on the second Saturday of the month from April through December. The numerous booths sell items such as antiques, clothing, pottery, jewelry, handcrafted items, Texas souvenirs, gourmet food products, and many more items.

Bastrop Homecoming and Rodeo
Bastrop's biggest annual party is held the first weekend at Mayfest Park as classmates return for reunions plus a parade on Main Street, a rip-snorting rodeo, carnival rides and dancing 'til the wee hours.

Yesterfest
This festival is usually held on the last Saturday in April at Pine and Water Streets in Bastrop. This popular Bastrop event features an old-fashioned parade, folk music, dancing, and a wide variety of activities.

Lost Pines Christmas
Celebrate the holiday season in Bastrop, complete with an old-fashioned Main Street Christmas to food and wine events and fun activities for the whole family.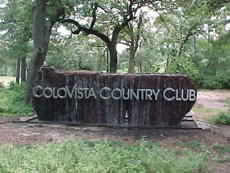 >
ColoVista Country Club
Other Events in or Near Bastrop:

Sherwood Forest Faire - near Smithville
Sherwood Forest Faire is a Renaissance Festival based on the tales of Robin Hood and his Merry Men.

If you know of an event that should be on this page, please let us know by emailing info@centraltexas-south.com.
.

Tourist Attractions in or Near Bastrop:

Austin Zoo
The mission of Austin Zoo is to assist animals in need through rescue, rehabilitation and education. Located on the southwest edge of Austin off of Highway 290 West and Circle Drive, Austin Zoo is a pleasant Hill Country zoo where visitors from around the world can come to learn about animals close-up, spend some time outdoors getting exercise and have fun.

Bastrop State Park
Home of the famous Lost Pines.

Lake Bastrop
900 surface acres of water suitable for boating, fishing, swimming and water skiing.

Bastrop Opera House
Presenting Yesterday, Today, and Tomorrow's Theatre. Bastrop Opera House is proud to present historic Bastrop and visitors with a live theatre venue rivaling many large town operations.

Bastrop Chamber of Commerce
Tons of great information about Bastrop.

Explore Bastrop County
Great information about the towns of Bastrop County (Smithville, Elgin, and, of course, Bastrop).
Popular Tourist Businesses in the Bastrop Area:

,
The Best Little Cabin in Texas
Rental Cabin in a very romantic location in the woods in the Lost Pines near Smithville and Bastrop.

Rent by the day, week or longer.
.


.
The Treehouse
This delightful vacation cabin is in the woods 5 minutes from Smithville, 20 minutes from Bastrop and only an hour away from Austin. It will comfortably sleep up to 10 people.
.
The Katy House Bed and Breakfast

This charming, turn-of-the-century, Texas B&B is handsomely decorated in American antiques and railroad memorabilia. The Katy House has been lovingly restored to its original, keeping the guests' comfort and convenience in mind. Katy House is located just a block off the historic district of downtown Smithville.

If you have any questions or need further info,
please e-mail: info@centraltexas-south.com
.
Central Texas South Home Page

If you know of a web page that should be added to this web site,
please let us know by emailing us at info@centraltexas-south.com.


Web Page Design © 2007- by
Highland Lakes Web Pages